Monty is an award winning magician and currently holds three Guinness World Records in Magic.
Monty specializes in corporate and fundraising events.


Contact Us










---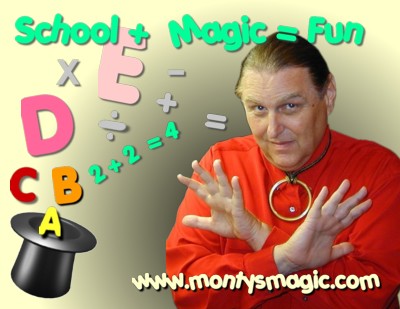 Monty's School Magic Shows Challenge
Pick a subject you want the students to learn and a goal you want to achieve. During the performance Monty will perform a magic trick that will amaze the students. Then Monty will challenge the students to complete your preset goal. If they achieve the goal, Monty will come back and teach them how to do the trick. Note: if you want this service it takes two bookings or Monty can send a DVD explaining the trick. You can pick the method at the time of booking.
Monty makes learning both fun and educational for your students. There is more to math, science, and reading then just numbers. Leaning can be magical too! Not only do the students learn from the performance they also retain much more of the information because of the unique delivery. Almost anything can be demonstrated through magic.
Some fun topics for the educational goals could include:
Reading Appreciation
On line illusions. On line preditors. Bad illusions.
Motivation & Success in School
Disability Awareness
or a specific message tailored to a topic of your choice!
Magic is a visual art. When performed by a skilled illusionist, a clever sleight of hand tricks your eyes into believing the impossible. Monty is just such a magician, captivating audiences with his thoroughly impressive magic throughout the US for the past 15 years.

Schools booking Monty select from a variety of messages, including teaching motivational principles, reading appreciation, disability awareness or a topic of their choice.

To invite Monty to perform for your educational, corporate, religious or civic group, simply tell us a little about your event.

New concepts are more easily remembered through the dramatic visual effects of magic. Fresh Magic! Tricks and skits you've never seen before that promote positive living. Monty interacts wonderfully with the students. The show was engaging, even for the preschoolers.