Monty is an award winning magician and currently holds three Guinness World Records in Magic.
Monty specializes in corporate and fundraising events.


Contact Us










---
Promotional magic
I can help make your product stand out and get noticed.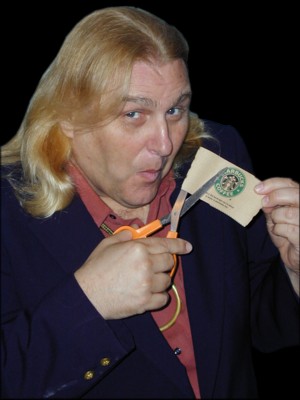 Let me promote your products or logo. I am a full time professional magician. I perform live shows for thousands every year. I have made several live TV appearances every year and have a very popular high volume website.
These are just a few ways I can promote your products or logos. I have achieved all this without a sponsor. Imagine what I can do with sponsors.
This picture is from a trick we designed called Insulator Surprise.


We can use magic on a convention floor to give away your samples or business cards.


Keep customers entertained while they are waiting for their turn.


Our magicians can draw a crowd for you, give out your promotional material in a magical way or simply add magic and mystery to your booth.


We can keep your leads entertained while they are waiting for a sales representative.


Private shows. I could use your product or logos in my live performance. Every year I perform several shows for schools, conventions, private parties, and other special events.


Live performances. I could use your products or logos in my public performances. I perform several shows in live theater and other ticked events every year.


TV product placement. I am frequently featured in the entertainment spotlight on prime time TV news in the local area where I am performing. They often give me as many as three spots for a total of about nine minutes. During this time I perform magic and could easily include your product or logo in the magic tricks.
News paper and Magazine product placement. Pictures of me are often featured in newspapers and magazines. This provides an excellent opportunity for product placement.
Website exposure. My website, www.montysmagic.com is one of the most popular websites in magic. Google for Monty magic, magic Hawaii, magic tricks, magician Hawaii, rose magic, coin magic, hand-washing magic, or any similar search that you can think of. You will get hundreds of hits. Many at the top of the search. As you know this is a great opportunity for product or logo placement.


Other magicians will use your products. I design tricks for magicians. If I design a trick using your products or logo it will be performed by magicians all over the world. See an example of tricks I designed that were published in a national magazine for magicians. Magicians all over the world do these tricks now.

Imagine a coin produced from your product and the logo was shown very clearly. Or imagine your small product was produced from a sugar pack. This is just an example. The possibilities are unlimited.


Call or Text
920-264-3328
wizard10@montysmagic.com
---
MontysMagic.com
P.O. Box 5163
Depere, WI
54115-5163

wizard10@montysmagic.com
Call or Text
920-264-3328