Monty is an award winning magician and currently holds three Guinness World Records in Magic.
Monty specializes in corporate and fundraising events.


Contact Us
ÔĽŅ









---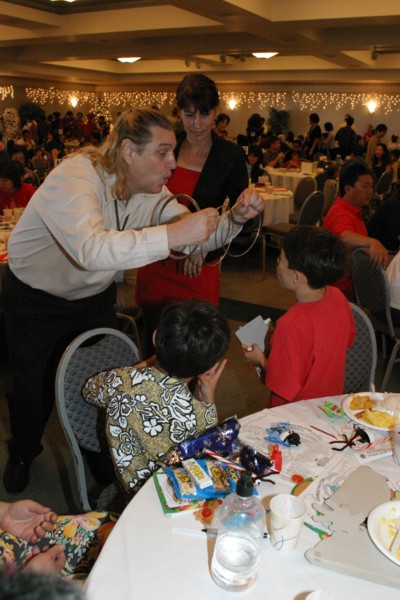 Restaurant Magician
Is Magic on your menu?
Magic is a great way to raise your profit.
Magic is a great way to bring new costumers into your restaurant.
Magic can bring a classy entertainment touch to your bar area
Benefits of a Restaurant Magician
People usually come into a restaurant for two reasons. First because they like the food; second, because they like the atmosphere. Monty can add something very special to the ambiance of a restaurant. People love to see magic,especially when itís being performed up-close. Guests who are entertained by a professional table side magician will tell their friends about the great time they had in the restaurant and they will come back for the experience! Why choose magic? Compared to music, magic has broader crossover appeal. While some forms of live music appeal only to certain audiences and ages, magic entertains seniors, adults, professionals, teens, and kids.

Itís a challenge to try and determine exactly what makes someone choose one restaurant over another. Interestingly, it just might be that little something extra that tips the scales. The addition of a table side magician to the entertainment budget of a restaurant insures that many people will cast a favorable eye in their direction due to the amount of value they are getting for their discriminating dining dollar.

There are, of course, many other benefits to having a table side magician. In the rare event that something goes wrong in the kitchen and the food is delayed, a manager can send the magician over to the table while the problem is being rectified with the guests being none the wiser. It may be that the waitress is delayed in delivering the check. A house magician can stop by the table and buy a few minutes and the guests will never recall that they had to wait a few additional moments for the check. A table side magician not only can entertain the guests, but also be the perfect solution for the everyday logistical problems that occur in any busy restaurant.

The restaurant magician is perfect for honoring people who come into the restaurant to celebrate special days such as anniversaries, birthdays, etc. The table side entertainer can extend personal greetings from the restaurant, and perhaps leave some memento behind, making the guest feel that he or she was special on their special day. This almost guarantees word-of-mouth advertising that money could never buy.

Obviously, the most important role a magician can play in the operating plan of a typical restaurant is that of entertaining guests who are waiting for a table. Restaurants that have long waits lose a certain percentage of those waiting. Some give up and leave. A competent table side performer can go into a waiting area and virtually make the time fly for guests who have not yet been seated. In this regard, a table side magician can, in a very tangible way, pay for himself!

Itís unique entertainment that attracts new clients, brings repeat business and generates publicity.

Word-of mouth recommendations increase traffic.

Itís a diversion for when meals are delayed.

People who really enjoy their dinner, cocktail and entertainment spend more money!

Montyís magic provides a unique dining experience that will set you apart from the competition.
Call Now!!!! to set up an appointment. Montyís restaurant program is guaranteed to increase return loyalty, and generate additional business.
---
MontysMagic.com
P.O. Box 5163
Depere, WI
54115-5163

wizard10@montysmagic.com
Call or Text
920-264-3328