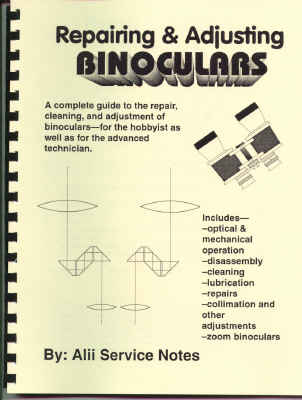 A complete guide to binocular repair. Covers repair, cleaning, and adjustment of binoculars -- for the hobbyist as well as the advanced binocular repair technician.
Includes:
Optical and mechanical operation.
The tools you will need for binocular repair.
Disassembly and how to avoid disturbing binocular adjustments.
Cleaning optics.
Lubrication.
Repairs -- how to repair binoculars.
Collimation and alignment of the optics.
Adjustments -- collimation, rotational error, diopter settings and more.
Zoom binoculars -- how they work and how to adjust them.
Repair your own binoculars. Or add binocular repair to your business. Learn how to restore binoculars to proper working condition.
Fully illustrated with over 150 drawings and photos. Copyright 1996
Learn to repair Brunton, Burris, Bushnell, Cannon, Dakota, Fujinon, Konus, Leica, Leupold, Minolta, Navy, Nikon, Pentax, Simmons, Steiner, Swarovski, Swift, Tasco, Vanguard, Zeiss and many others.
Instantly download
the complete 30 megabyte manual
in PDF format.
A download link will be emailed to you automatically as soon as your purchase is completed.
Please check your spam folder if you do not see the download link in your normal email.