Secrets to magic:
Cards Across

Two cards on the table or in the spectator's hand instantly change places with two cards in your hand. You will find instructions for this illusion and many others in the catalog. You can download the instructions instantly and start learning how to perform this fun magic trick and illusion.

Learn to perform this great illusion.
Magic News
Stacked Deck - Update - 04/17/2012
In the latest version you can change the back of the cards. Now you can pick for most popular designs or load your own design.





Magic sautéed with scienceThe Hindu

If we don't have the reason of

magic

, how do we exist?

Magic

is the hope of a better tomorrow," says the 'Merchant of Vanish', PC Sorcar Jr describing

magic

as the essence of existence. The celebrated

magician

is in the city to celebrate 100 years of

...
Magicians send your press release to the wizard at the bottom of this page.
Party Tips:
Create a festive party atmosphere with decorations, scents and music. Use scented candles or simmer a pot of water with cinnamon and citrus fruit to fill the house with a delightful aroma. Choose your favorite music and have it playing softly in the background when guests arrive. Consider unplugging or removing your television if it's located in the party area. Nothing spoils the interaction of guests quicker than a group of people huddled around a television set.
Congress has the unsolved problem of how to get the people to pay taxes they can't afford for services they don't need.
A fun sliding puzzle. Try it.



A little Magic History: more history


In addition to his well-publicized career as a magician and escape artist, Houdini also pursued a number of unusual hobbies. Houdini completed the first manned flight on the continent of Australia. Houdini served as a writer, producer, or actor in a number of movies during the birth of the moving picture. Among the movies he appeared in were Terror Island, The Grim Game, and The Man from Beyond.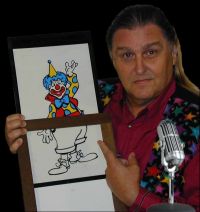 Monty makes a great Emcee. Magic and Emcee's were made for each other. The magic is exciting and will keep your audience on the edge of their seats. Monty's presentation is funny and mysterious at the same time. Your audience will talk about your event for years to come. Get more information.
Tips for Magicians:
Always listen closely to your audience's response to determine what parts of your act are well received and what parts are not. Drop or change the parts that are not going over well even if you like them.
Play charities and free events. They are an excellent way to get experience and stay proficient.
Magical Creatures:

Nixes
A nixe is a Norse water spirit that lures people to the water in which they reside. Male nixes assume any shape while females are just beautiful women with the tail of a fish. Nixes are thought to be harmless and friendly in some quarters but are considered as malignant in others.
Element Encyclopedia of Magical Creatures